Our products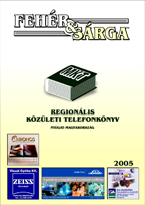 White&Yellow Regional Business Telephone Directory - West Hungary
in a single volume it covers the counties of

Győr-Moson-Sopron
Komárom-Esztergom
Fejér
Veszprém
Vas
Zala
Somogy
Tolna
Baranya

Consists of two complete - business (yellow) and alphabetic list (white) - parts
Instead of the 9 similar white and 9 business products it reaches your potential partners more cost effectively.
Complex, because for basic information - even based on telephone subscription other than corporate subscription - it is a free 'Business to Business' product.
E-mail and Internet addresses can be published as basic data.
It is the simplest solution because:
It is free of charge for all companies and enterprises.
The publication is distributed by personal delivery.
It is a coloured publication, so you can reflect the image of your company hereally.
It covers the whole Dunántúl at a favourable local price
Its contents are available on the internet too.
Publish yourself at the guaranteed lowest telephone directory prices!
For advertisements, please ask for our brochure without any obligations and you will see that
IT IS A BETTER VALUE AND BETTER ALL ROUND WITH US!
Index Kommunikációs, Informatikai és Internettudakozó Kft.
1131 Budapest, Dolmány u. 12.
Tel.: +36 (1) 412 30 80
Fax: +36 (1) 412 3081
E-mail:
Regional office:
Index Kommunikációs, Informatikai és Internettudakozó Kft.
4026 Debrecen, Bem tér 14. II. em. 2.
Tel.: +36 (30) 205-6558
E-mail: